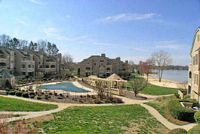 WATERFRONT CONDOS on LAKE NORMAN for SALE
Lake Norman Waterfront Condos for Sale (click on link to view all) continue to be a favorite choice of buyers looking for Lake Norman Real Estate for Sale. Not only can prices more affordable, but home owners get to enjoy maintenance free living without the hassles of owning Lake Norman Homes.
Two towns that offer the most Waterfront Condos for sale are Cornelius, NC Condos & Davidson, NC Condos with a few along the shores of Mooresville, Denver, Statesville and Sherrills Ford, NC.
Please enjoy the list below and select those Condos that entice you the most. (click on the links below)
CORNELIUS, NC WATERFRONT CONDOS FOR SALE < $250,000
CORNELIUS, NC WATERFRONT CONDOS FOR SALE > $250,000
DAVIDSON, NC WATERFRONT CONDOS FOR SALE < $250,000
DAVIDSON, NC WATERFRONT CONDOS FOR SALE > $250,000
MOORESVILLE, NC WATERFRONT CONDOS FOR SALE
STATESVILLE, NC WATERFRONT CONDOS FOR SALE
SHERRILLS FORD, NC WATERFRONT CONDOS FOR SALE
DENVER, NC WATERFRONT CONDOS FOR SALE
Call us at 704.900.1619 to schedule an appointment
***Please scroll to the bottom of this page to view Listings in the most popular Lake Norman Subdivisions***
__________________________________________
Lake Norman Waterfront Condos by Town, Subdivision -> Complex
(WF = Waterfront | WV = Waterview | LS = Lakeside
These units are on Davidson Lake and not Lake Norman (no access to each lake by boat)
These units are on Davidson Lake and not Lake Norman (no access to each lake by boat)
These units are on Davidson Lake and not Lake Norman (no access to each lake by boat)