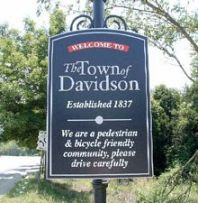 Davidson, NC Homes for Sale (clcik on the link for all current Listings) are located 30 miles north of Charlotte, NC Real Estate. It is a small, Southern college town with engaged and active citizens who care deeply about their community.
The Town of Davidson, NC main street has shops, wide sidewalks, a community library, and flowers everywhere. Their town green is used for pick-up football games, coffee sessions, play dates, festivals, croquet matches, and outdoor concerts.
Davidson, NC Real Estate for Sale is built for pedestrians and bike riders, not for the car. No drive thrus are allowed here. They believe in connectivity and walkable streets.

Davidson is passionate about diversity; as they require that 12.5% of all new development is affordable to encourage all types of homes and all types of citizens.
Lake Norman Real Estate for Sale is also part of this community as they offer Lake Norman Waterfront Condos for Sale in Davidson Landing on the West side of I77 or Davidson, NC Condos/Townhomes for Sale & Davidson, NC Waterfront Homes on the East side; such as Spinnaker Reach & Davidson Pointe Homes on Davidson Lake.
DAVIDSON, NC HOMES FOR SALE
DAVIDSON, NC HOMES FOR SALE < $150,000
DAVIDSON, NC HOMES FOR SALE $150,000 - $225,000
DAVIDSON, NC HOMES FOR SALE $225,000 - $325,000
DAVIDSON, NC HOMES FOR SALE $325,000 - $400,000
DAVIDSON, NC HOMES FOR SALE $400,000 - $500,000
DAVIDSON, NC HOMES FOR SALE > $500,000
Davidson Golf Course Homes | Davidson New Construction Homes
Popular Subdivisions in Davidson